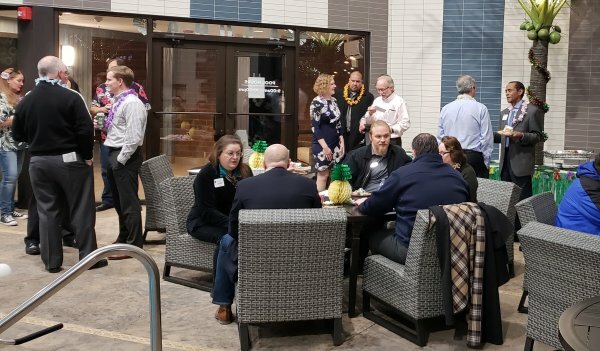 Are you looking to increase your connections to colleagues and potential clients?
We provide numerous opportunities to help you build your network, grow your business and achieve your goals.
Let our friendly chamber help you develop professional contacts in our regional business community!
Monthly Events
Networking takes place at all of our events, including monthly Business Connection Lunches with networking time before and after the lunch program and monthly Business After Hours where networking is the sole purpose of the evening. Please refer to the Event Page for upcoming networking opportunities.
Annual Events
Our annual events offer opportunities to make new connections with business leaders. In February, our Annual Recognition Celebration provides an atmosphere for our Members and special guests to enjoy networking during the Celebration Hour, followed by the introduction of regional business leaders as the finalists and winners are recognized. Please refer to the Event Page listings for details on annual events.
The Referral Network®
The Referral Network® (TRN), a membership group within our Chamber, meeting once a week to build relationships and to grow through qualified referrals from trusted colleagues. Individual members of TRN have industry exclusivity in order to avoid conflict among members. To learn more, please view the TRN brochure, visit the TRN page, or contact Steve Simon, TRN President, at ssimon@langgroup.com
Young Professionals of Northern Cincinnati
Our Young Professional group meets monthly providing a forum for professionals ages 21 through 39 to network with peers. While their monthly meetings offer networking before and after their monthly program, their social activities are devoted to building connections. See the Event Page for Young Professional's events or contact Ashley Muse at Ashley@NorthCincyChamber.com.
Volunteer
We encourage Chamber members to volunteer at our events, such as the Annual Golf Outing held in August! (check website for COVID updates). Volunteering provides an easy way to make connections! Contact the Chamber for current volunteer opportunities!
info@NorthCincyChamber.com